Roll over image to zoom in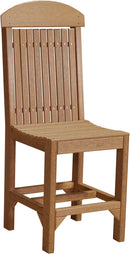 Description
Ships Fully Assembled - Sold in Sets of 2 Only - Shipping Surcharge Applies
The LuxCraft Captain Chair mimics everything you love about our
Regular Chair, with the added comfort of two armrests.
For your next dinner party, use all Captain Chairs or mix
and match to create an elegant dining area. Finish the entire
environment off with Dining Chair Cushions, and you're
ready to host a memorable gathering!
Details: 

Dining Height: 24"W × 21.5"D × 44"H | 33 lbs.
Counter Height: 24"W × 21.5"D × 50"H | 37 lbs.
Bar Height: 24"W × 21.5"D × 56"H | 39 lbs.
Seat: 19"SW × 17"SD
Payment & Security
Your payment information is processed securely. We do not store credit card details nor have access to your credit card information.