Roll over image to zoom in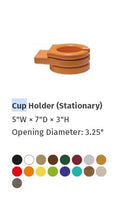 Description
Cup Holder (Stationary)
While you're relaxing, why not enjoy a morning cup
of coffee or a refreshing iced tea? Our Stationary Cup
Holder will fit onto any LuxCraft glider, bench, or deck
chair*, preventing spills and ensuring your beverage is
always within reach.
* Does not fit Grandpa's Rocker.
 Overall: 5"W × 7"D × 3"H | 1 lb.
Opening Diameter: 3.25"
Payment & Security
Your payment information is processed securely. We do not store credit card details nor have access to your credit card information.